Organic clothes for everyone
Welcome to a world full of organic cotton. We design, manufacture and sell organic cotton clothes. We do it in a sustainable way where all aspects are considered. Environmentally and socially.
That's why you only find certified organic and climate compensated cotton clothes here.
Organic cotton
All our clothes are made of GOTS-certified organic cotton. All fabrics are Fairtrade certified
Organic yoga wear
Leggings, tank-tops, sports bras and much more
Organic dresses and blouses
Purchase your clothes with us for a sustainable planet
Why organic clothes?
For a long time we have treated our earth very unsympathetic. The result is bad air, bad water and a shaky climate. An organic certified garment is significantly less harmful for our environment.
Organic Indian cotton
Our cotton comes from the Maharashtra region of India. It is one of the most suitable places for growing organic cotton. Clothing is sewn up in the neighboring state of Gujarat. This cotton is known for its high quality.
The human footprint
The start of the industrialisation was amazing to mankind. The problem was that no one knew about the negative footprint we left. Now we know and can do something about it. We have the knowledge.
Shopping organic is to care
We as consumers are the ones who decide what should be on the shelfs in the boutiques. By shopping organic and with nature in mind you will contribute to a better & healthier planet. Support your organic merchant.
The organic cotton farmer
The organic cotton farmer works with nature. The crops are not sprayed with chemicals. Conservation of water and energy are included in the certification. GMO are prohibited and all kinds of heavy metals.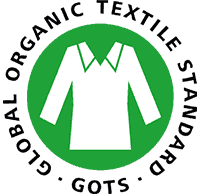 GOTS certification
The organic GOTS certification means that all processes from seed to fashion is regulated. No harmful chemicals, no child labor, water control and much more. GOTS is a non-profit organisation